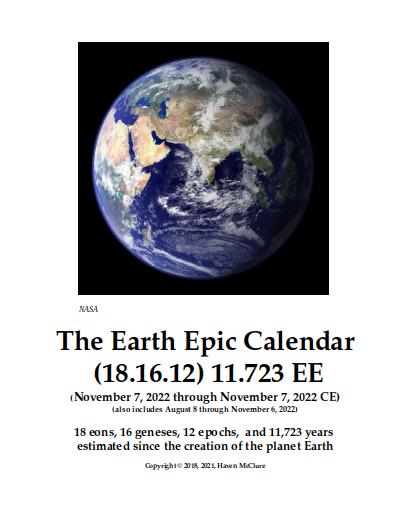 11722 Westcross 80. The Earth Epic Calendar is an alternative calendar to consider in the days when the Earth as we know it is in great peril.
A Pagan life in a Christian calendar
It can feel ironic as a Pagan to use "Christian calendar" in our daily lives. This Gregorian calendar traveled the world with European colonists and became the calendar of trade. As of 2022 only four countries have not officially adopted this calendar—Ethiopia, Nepal, Iran, Afghanistan.
The Gregorian calendar assumes that little of importance happened until the birth of Jesus Christ. At the time the Gregorian Calendar started replacing the Julian Calendar in 1582 CE, most scholars still thought the world was 6,000 years old. Unfortunately, we still act like the world is 6,000 years old. That is why we are facing an environmental crisis that is unprecedented.
An Earth-centered calendar
The Earth Epic Calendar was created out of the desire to use a calendar more attuned to the Earth. It recognizes that we human beings have occupied this planet for a tiny sliver of its existence.
Observing the Earth's cycles is a big component of a lot of Pagan Practice. The Earth Epic Calendar observes a number of Earth cycles. . The year is divided into quarters based on and named after the sun's position relative to the Earth. Lunar months are tracked in a way that doesn't disrupt the solar year. Another cycle is remarkable close to the current length of the Axial Precession which not only includes the Age of Aquarius, but the path through all twelve zodiac signs. Another cycle in the calendar based on period of time between the advent of the dinosaurs and the present also happens to be roughly the same as the Galactic Year. The calendar even tracks the comparative length of seasons, which change according to a roughly 20,000 year cycle.
The new year of the Earth Epic Calendar will be on November 7 of this year. The year will be 11723, dated from 9701 BCE. The International Commission of Stratigraphy (a subset of the International Union of Geological Sciences) labeled that year as the start of the Holocene Era.
To learn more, and/or to purchase the newest Earth Epic Calendar, visit https://earthepiccalendar.com/.